CE François Couture retourne vers le Monde flottant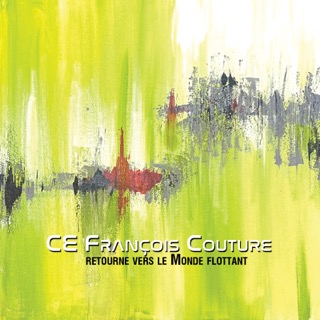 CDr usiné (gatefold cartonné) et téléchargement /
Manufactured CDr (cardboard gatefold) & download
Cuchabata Records (CUCH-188)
5 août/August 2021
Disponibilité : cefrancoiscouture.bandcamp.com




Un retour au rock progressif
Le Monde flottant était mon groupe de musique au tournant de la vingtaine, à Sherbrooke (Québec). Nicolas Houle (mon partenaire d'écriture à l'époque) et moi avons une vingtaine sinon une trentaine de chansons entre 1990 et 1995. Nous avons enregistré deux démos qui, malheureusement, ne rendaient pas justice au matériel et qui ne reverront jamais le jour. Sur cet album, je revisite une partie du répertoire du Monde flottant avec mes oreilles de 2021, y apportant des modifications parfois subtiles, parfois radicales, et réarrangeant le tout. (Quelques examples: Sam et Solitude, en 4/4 à l'origine, sont maintenant en 7/4 et en 3/4 respectivement; Aurore était une chanson pour piano; Si avait plus de répétitions.) Dimensions I : Le temps a été recomposée à partir de souvenirs fragmentaires. Dimensions III: L'abstraction est une nouvelle composition.

[Descendez pour lire un texte de présentation plus long.]

Going back to prog rock
Le Monde flottant was my band in my early 20s, based in Sherbrooke (Quebec). My then-writing partner Nicolas Houle and I wrote twenty or thirty songs between 1990 and 1995. We recorded two demos that fell short of realizing the full potential of the material we had, and they will never be reissued. For this album, I revisited selections from Le Monde flottant's repertoire, using my 2021 ears, making subtle changes here, drastic ones there, and rearranging everything from scratch. (Some examples: Sam and Solitude, originally in 4/4, are now in 7/4 and in 3/4 respectively; Aurore used to be a piano-led song; Si contained more repetitions.) Dimensions I: Le temps was recomposed from fragmentary memories. DImensions III: L'abstraction is a new composition.

[scroll down for a longer presentation of this project.]


CE François Couture : voix/voice (1-9), claviers logiciels/software keyboards (1-9), basse électrique 5 cordes/5-string electri bass (1-9), batterie/drum kit (1-2, 5-9), orgue Lowrey Festival/Lowrey Festival organ (6), mélodica/melodica (7), mandoline électrique/electric mandolin (7), Korg Micro Preset (2), transformations sonores d'éléments de 1 et 2/ sonic transformations of elements from 1 & 2 (3), tamboa (4), kalimba (4), banjo (5).

Robin Servant : enregistrements de terrain/field recordings (3-5)
Œuvre visuelle/Artwork : Marie-Eve Chaput
Graphisme/Graphic design : Valeria Ioana Pod

Enregistré de février à mai 2021 au studio Reserved Parking for Musicians Only (St-Faustin–Lac-Carré, Québec). Mixage et matriçage en mai-juillet 2021 par CE François Couture.
Recorded February-May 2021 at Reserved Parking for Musicians Only (St-Faustin-Lac-Carré, Quebec). Mixing & mastering May-July 2021 by CE François Couture.

Reviews / Recension critique


L'histoire de CE François Couture retourne vers le Monde flottant
À l'adolescence, je faisais de la musique. J'en ai composé un peu, j'en ai joué beaucoup, d'abord en privé comme tout le monde. J'ai rencontré Nicolas Houle je ne sais plus quand ni comment, à 16 ou 17 ans ? Avec quelques amis, nous avons monté un groupe de reprises (The Doors, Deep Purple, des trucs comme ça) qui s'est produit dans les bars et les salles communautaires de la région de Sherbrooke, son nom se transformant au gré des changements de personnel et d'orientation : Wilderness, Hush, Névrose et, finalement, Le Monde flottant.

À ce dernier stade, nous étions dans le début de la vingtaine et nous n'interprétions plus que nos propres compositions, en français. Nicolas écrivait la plupart des textes (j'en ai commis quelques-uns), nous écrivions chacun nos musiques et nous arrangions le tout ensemble. Le style combinait mon amour du rock progressif et celui de Nicolas pour le hard rock : appelons cela du rock « progressivant » ou du rock progressif « léger ». Léger en complexité et non en thèmes : la plupart du temps, les textes tournaient autour du mal de vivre de deux étudiants en littérature, de la résistance à entrer dans le moule. Nous avons enregistré deux courts démos, en 1993 et en 1994, qui ont très peu circulé et qui ne seront pas réédités. L'attention ne s'est pas matérialisée.

Puis, j'ai découvert les musiques expérimentales et, rapidement, j'ai perdu toute confiance dans la qualité et la pertinence de ma musique. J'ai abandonné et je suis devenu animateur à la radio communautaire et, un peu plus tard, journaliste, pour faire connaître les musiques qui, à mon avis, en valaient la peine. Le stéréotype du critique musical qui est un ex-musicien frustré, quoi !

Avance rapide jusqu'en 2010 où, dans le cadre de grands chamboulements dans ma vie, je me suis remis à faire de la musique, mais expérimentale cette fois. Très bruitiste, même. J'ai publié quelques disques solos dans cette veine.

Puis ce fut la rencontre, en 2014, de David Dugas Dion et de la famille de son étiquette Cuchabata Records. Je me suis retrouvé rapidement dans plusieurs formations d'improvisation libre : La Forêt rouge, Square/Sine, RBC, divers projets ponctuels aussi. J'étais redevenu musicien, mais pas encore compositeur.

En 2015, je me suis attelé à un premier projet de chansons très éclectiques, Spam Me (paru en 2016), où le rock progressif a fait un retour en douce dans la pièce-titre. Et encore pour le mini-album Surmise/Overmine (fin 2016), ainsi que dans la suite « Aphasia » de mon album Miscommunication (2017).

Pendant le confinement pandémique, je me suis trouvé privé de rencontres de musiques d'improvisation et de collaborateurs. Après quelques mois de morosité m'est venue une question : suis-je assez solide aujourd'hui pour revisiter le matériel du Monde flottant et lui donner une forme qui satisferait mes oreilles, mes goûts d'aujourd'hui, plus de 25 ans plus tard, après toutes ces années passées à écouter la musique des autres, à intégrer de multiples influences ?

Je disposais d'archives : des partitions pour certaines de mes compositions, des « cue sheets » pour d'autres, des démos pour une poignée. J'ai fait un tri, éliminant les trucs qui avaient mal vieilli et les pièces trop disparues dans l'oubli. Par nécessité, ce tri a favorisé mes propres compositions plutôt que celles de Nicolas, dont je ne gardais qu'un vague souvenir (à l'exception de « Vers le Monde flottant », une composition magnifique qui figurait sur notre premier démo).

J'ai commencé par « Sam le croque-mort », une chanson rock au texte ludique pour laquelle certaines de mes idées avaient été refusées par le groupe. J'avais l'occasion de les intégrer (le thème de trompettes, notamment). Mais ça restait une chanson rock trop carrée; je n'écrirais jamais ça en 2021 ! Je l'ai donc repensée en 7/4 plutôt qu'en 4/4. C'est là que j'ai compris que ce projet marcherait, du moment que je me permettrais tout. Y compris d'altérer mes propres textes ici et là.

Le travail s'est enchaîné avec un sentiment d'excitation, d'urgence même. J'ai rapidement contacté Nicolas pour le mettre au parfum; il m'a gentiment accompagné de A à Z avec les commentaires judicieux du journaliste et du diffuseur aguerri qu'il est devenu.

Certaines des chansons sur ce disque datent d'avant la dernière incarnation du Monde flottant (Sam le croque-mort, Vue du pont), d'autres de la période démos (Vers le Monde flottant, Solitude, Si). D'autres encore des tout derniers mois dans la vie du groupe, et qui n'ont été jouées en concert qu'une ou deux fois (Dimensions I et II, Aurore de minuit aux yeux crevés). Il ne me restait qu'un souvenir fragmentaire de Dimensions I; je l'ai recomposé. Et, sur une boutade de Nicolas, j'ai ajouté une troisième partie à Dimensions !

Changements de chiffres indicateurs, de certains tempos, contrôle total sur les arrangements : ce retour vers le Monde flottant ressemble à ce que je suis aujourd'hui et fait ressortir la part « rock progressif » de mon écriture d'alors, que j'assume pleinement, enfin. J'espère que vous aurez autant de plaisir à découvrir ce monde que j'en ai eu à le retrouver.


The Story Behind CE François Couture retourne vers le Monde flottant
I used to play music in my teens. I was composing a little and playing a lot, first in private settings like everyone else. Then I met Nicolas Houle, I can't remember exactly when or how, when I was 16 or 17 years old? With a few friends we put together a cover band (The Doors, Deep Purple, things like that) that performed in bars and community halls in and around Sherbrooke, Quebec. The band's name was in flux, changing along with line-ups and directions: Wilderness, Hush, Névrose, and, finally, Le Monde flottant, which means "The Floating World."

By then, we were both in our early twenties, and we were performing our own material, in French. Nicolas took care of most of the lyrics (I did pen a few myself), we wrote music separately, and arranged everything together. The style of this music combined my fondness for progressive rock and Nicolas's love of hard rock—call in "light" prog rock if you will. Light in terms of complexity, not of topics: most of the time, the lyrics revolved around the angst of two literature students resisting society's mould-fitting attempts. We recorded a couple of short demos in 1993 and 1994; they barely circulated and they will not be reissued. They failed to draw any attention on us.

Then I discovered experimental music and quickly lost any and all confidence in the quality and relevance of my own music. I quit. And I became a community radio show host and, later, a music journalist, keen on spreading the word about the artists that were truly worth it to my ears—the stereotype of the frustrated ex-musician as a music critic!

Fast-forward to 2010 when, in the midst of great turmoil in my life, I resumed making music—experimental music, this time. Noise music, actually. I released a few solo albums in that vein.

Then, in 2014, I met David Dugas Dion and the musical family of his Cuchabata Records label. I quickly found myself in several free improvising groups: La Forêt Rouge, Square/Sine, RBC, plus various ad hoc projects. I had truly resumed being a musician and a live performed, though not a composer yet.

In 2015, I started working on my first song-based project, a very eclectic platter entitled Spam Me (released in 2016), where progressive rock made a slight comeback in the title track. And again for the late-2016 EP Surmise/Overmine, and one more time in the "Aphasia" suite on my 2017 CD Miscommunication.

The pandemic lockdown robbed me of improvised music meetings and collaborators. After a few morose months, an interrogation came to me: would I be sure-footed enough to revisit Le Monde flottant's material and shape it in a way that would please my current ears, my current tastes, more than 25 years later, after all that time spent listening to other people's music and integrating so many influences?

I had archives: scores for some of my compositions, cue sheets for others, demos for a handful. I sorted songs, excluding the ones that hadn't aged well and the ones that had disappeared too deeply into oblivion. By necessity, this process favoured my own compositions in comparison to Nicolas's which I couldn't remember for the most part (except for "Vers le Monde flottant," a gorgeous song that we had recorded for our first demo).

I started with "Sam le croque-mort," a rock song with a playful lyric for which some of my ideas had been rejected by the band. Now I had the opportunity to slip them back in (the trumpet theme, in particular). But it was still a very square rock song—I would never compose something this straightforward in 2021! So I reframed its 4/4 structure into a driving 7/4. That's when I understood that this project could work out, as long as I allowed myself anything and everything—including fixing my own lyrics!

Work on the project carried on at a frantic pace, with much excitement and a sense of urgency. I quickly reached out to Nicolas to tell him about my idea. He kindly accompanied me from start to finish with the thoughtful comments and attuned ears of the seasoned journalist and concert presenter he has become.

Some of the songs on this record date from before Le Monde flottant's final incarnation (Sam le croque-mort, Vue du pont), others from the "demos" era (Vers le Monde flottant, Solitude, Si). Some were written in the very last months of the band's existence and were performed live only once or twice (Dimensions I & II, Aurore de minuit aux yeux crevés). I only had fragmented memories of Dimensions I, so I recomposed it. And, on a playful dare from Nicolas, I added a third part to the Dimensions suite, make it a full 3D thing!

Changes to time signatures and tempos, total control over the arrangements: this return to The Floating World fits what I am today and brings out much more clearly the "progressive rock" aspect of my writing at the time, which I have finally come to own 100%. I hope that you will have as much fun discovering this world as I had rediscovering it.