CUCH FEST XIII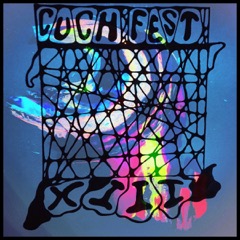 Compilation à télécharger gratuitement / Free-to-download compilation, Cuchabata Records (CUCH-131), nov. 2018.


Notes personnelles / Personal Notes

Pour sa compilation Cuch Fest de 2018, Cuchabata Records a assignè à chaque artiste participant le répertoire d'un autre artiste de l'étiquette à remixer ou réinterpréter. J'ai partcipié à trois reprises et deux de mes projets y sont retravaillés.
For its 2018 Cuch Fest free compilation, Cuchabata Records assigned to each participating artist another artist from its catalogue, for remixing or covering purposes. I took park to three reworkings and two of my projects are reinterpreted.

ÉLECTRIQUE JUNK/CE FRANÇOIS COUTURE: Bacon Madness at the Synagogue (The Parking Logic Orchestra Remix) (8:36)
J'ai ajouté un arrangement orchestral à ce numéro épique du power trio de Guillaume Cloutier.
I added an orchestral arrangement to the epic number by Guillaume Cloutier's power trio.




POP GOES/LA FORÊT ROUGE: First Little Pumpkin (La Forêt rouge remix) (3:07)
Un remix sous forme de cadavre excquis.
A cadavre exquis-like remix.



WAPSTAN / SQUARE/SINE: Précipices (Square/Sine remix)
Square/Sine a ajouté voix et instrumentation à cette tranche de noise.
Square/Sine added vocals and instruments to this slice of harsh noise.