BIO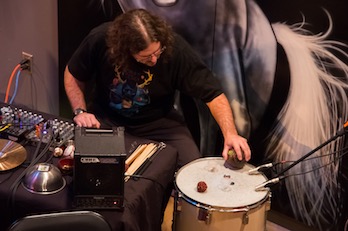 (Photo: Stéphane Rocheleau)


ENGLISH

CE François Couture [French for THIS François Couture, there's a ton of them in Quebec] is an experimental musician, improviser, and multi-instrumentalist originally from Sherbrooke, now based in St-Faustin, Quebec, Canada. He came out of the music closet at age 38. He plays keyboards, theremin, percussion, and various misfit instruments, and he also sings, drawing inspiration in equal parts from Peter Hammill, Phil Minton, and Keiji Haino. He also loves to sculpt multi-facetted feedbacks using mixing boards. He has solo releases on the labels La Cohu, Cuchabata, and Pan y Rosas.

In April 2014, CE François Couture joined Montreal-based free improvising unit La Forêt rouge. The band has released four albums since then. Couture also plays in textural noise trio RBC with Stéphane Rocheleau and François Bussière, and in the wild noise rock duo Square/Sine with David Dugas Dion. .

2016 should see the release of his first album of « songs », a percussion duo with his son Aubert, and new albums by RBC and La Forêt rouge.


FRANÇAIS

CE François Couture (parce que les François Couture sont légion au Québec) est musicien expérimental, improvisateur et multi-instrumentiste. Originaire de Sherbrooke, il vit maintenant à St-Faustin, Québec, Canada. Il est sorti du placard musical à 38 ans. Il joue des claviers, de la theremin, des percussions et divers instruments mal aimés. Il chante aussi, s'inspirant à parts égales de Peter Hammill, Phil Minton et Keiji Haino. Et il adore sculpter des feedbacks aux dimensions multiples à l'aide de consoles de mixage. Il a publié des albums solo chez les étiquettes La Cohu, Cuchabata et Pan y Rosas.

En avril 2014, CE François Couture est devenu membre du groupe montréalais d'improvisation libre La Forêt rouge, qui a publié quatre albums depuis. Il est aussi membre du trio noise ambiant RBC (avec Stéphane Rocheleau et François Bussière) et du duo noise rock Square/Sine (avec David Dugas Dion).

En 2016, il compte publier son premier album de « chansons », un duo de percussions avec son fils Aubert et de nouveaux albums avec RBC et La Forêt rouge.